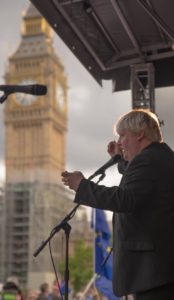 Faux BoJo (a.k.a Drew Galdron)- known to many as "Boris Johnson's conscience" – is a professional impersonator of the former Mayor of London and former British Foreign Secretary (August 2016 til July 2017).
Whilst the real Boris is a character so easily lampooned in his own right, Drew's impersonations feature musical flair and a routine made for delivering the clear message, that:
Brexit is no good for Britain,
BoJo has made a mistake by supporting it, and
in his role as Britain's Foreign Minister, well and truly – BORIS – HAS – **CKED IT UP!
Keeping up the Campaign in 2018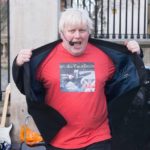 Faux BoJo is in the process of starting major new projects this year, as well as offering his usual support to Remain and #StopBrexit campaigns across the U.K.
Please show your support for FauxBoJo by checking out the rest of the site, and sharing it with your friends and family.
Help keep alive the message of "fun not fear" in the campaigns to keep Britain in the European Union – Support the Faux BoJo Sweep Stake , for guaranteed prizes and the chance to WIN much more!