The real Boris Johnson has proposed some quite mad ideas and gimmicks, to "help" Britain with its trade post-Brexit. Not only has he sought to get a new Royal Yacht Britannia built as a "floating embassy", but he's even suggested that a bridge should be built across the English Channel – perhaps because queues may likely be long enough anyway, if Britain leaves the Europeans Customs Union? Who knows!
In response to this absurdity, Faux BoJo has taken it upon himself to make his own attempts at building "a bridge to Europe". Except that this will be at British embassies across the European Union's capital cities…
…and they will be made of foods or other items that are well known products of each country…
… and each bridge will be only a model (SHHH!)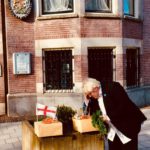 Will these bridges be any good?
Or will they be as weak and wobbly as the government that the real Boris serves?
Will they be as big a failure as Boris Johnson's foreign policy?
These bridges will likely fail, just like Brexit. But as well as bringing fun to any attending British expats at these bridge-building events, Faux BoJo will be making the clear point, that Britain already HAS the best proverbial "Bridge to Europe" that it's ever going to get – through it's membership of the European Union, and all the benefits which comes with that – INCLUDING democratic involvement in the world's biggest trading bloc!
Faux BoJo will state, with these 27 Bridges, that Britain should NOT lose this great link that we already have, with these 27 other European nations, whose trade is so vital to Britain's economy and prosperity.
Visiting EVERY capital of 27 EU member states will come at a high price, of course. But Faux BoJo isn't afraid to take on a challenge.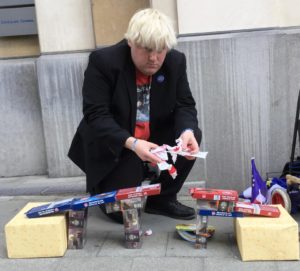 Following an unsuccessful attempt at building a bridge in Amsterdam, FauxBoJo constructed his first bridge at the first British Embassy in Brussels, on April 23rd 2018.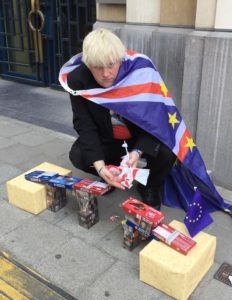 Faux BoJo hopes to build the next bridge outside the U.K. embassy in Dublin, after that.
But although some funding has been provided from a single benefactor so far, it's going to take every one-off donation that we can get, from supporters of Faux BoJo, and those who support the diverse range of stunts and statements made by those campaigning to #StopBrexit, bring Britain's global trade policy back to reality, and keep Britain a prosperous, courageous, welcoming member state of the European Union – to make sure that Britain is being the change that its better-natured, caring, rational, liberal, decent people want to be in the world.
So to help fund this project, we're cutting out the middle man of crowdfunder sites – which although useful to campaigns, do include a levy of fees, and a limited way of gaining funds. So we're simply collecting PayPal Donations instead.
If you'd like to contribute to the 27 Bridges Project, please use the PayPal Donate buttons at the top or bottom of this page.
We'll be incredibly grateful, for any support that you're willing to give to Faux BoJo.